Tambo Sits at the top of the breed for all growth traits.
With Tamamura sire side and Big Al on the dam side, he presents a balanced high performance genetic equation.
Dai 10 Mitsumaru, on the maternal side, was ranked No 1 in the progeny test in Kumamoto, Japan in 1998.
Akiko, also on the maternal side brings high fertility traits. Tambo won the Champion of the World title in 2016, resides at Mirannie. 
Tambos calves are clear standouts in the paddock with high growth rates, strong backline and heavy muscling. 
Tambo suits breeders looking to produce animals that will be stand out in any fat cattle saleyard.
Analysis of the EBV & breedplan data shows that Tambo throws:
EBV Percentiles for ACADEMY RED WAGYUS TAMBO H18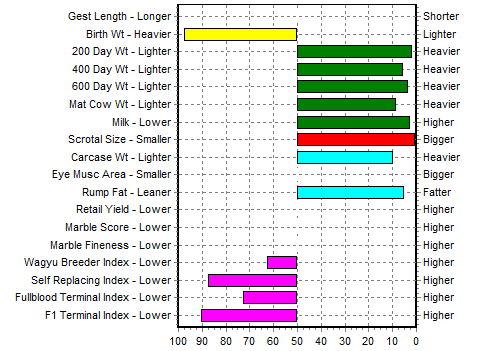 50th Percentile is the Breed Avg. EBVs for 2019 Born Calves
December 2021 Wagyu Breed Plan

Data sourced from University of New England data & more detail can be found here.